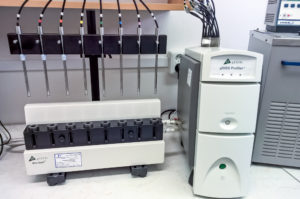 This versatile in situ fiber optic UV monitoring dissolution and solubility system is specially designed to monitor small volume concentrations. Powered by Au Pro software, the most comprehensive data analysis software available in the industry, the µDISS Profiler evaluates the various effects on solubility, intrinsic disc dissolution rate, dissolution profiles, super-saturation, precipitation profiles, and more.
Our applications:
Fast initial dissolution testing
Small volume dissolutions
Specifications:
Small Volume Dissolution (2-20 mL)
in situ UV Monitoring (200 -720 nm)
Individually Controlled 8 Channel Stirring
Interchangeable pathlehgth probe tips
See manufacturer's overview of this product for more details.