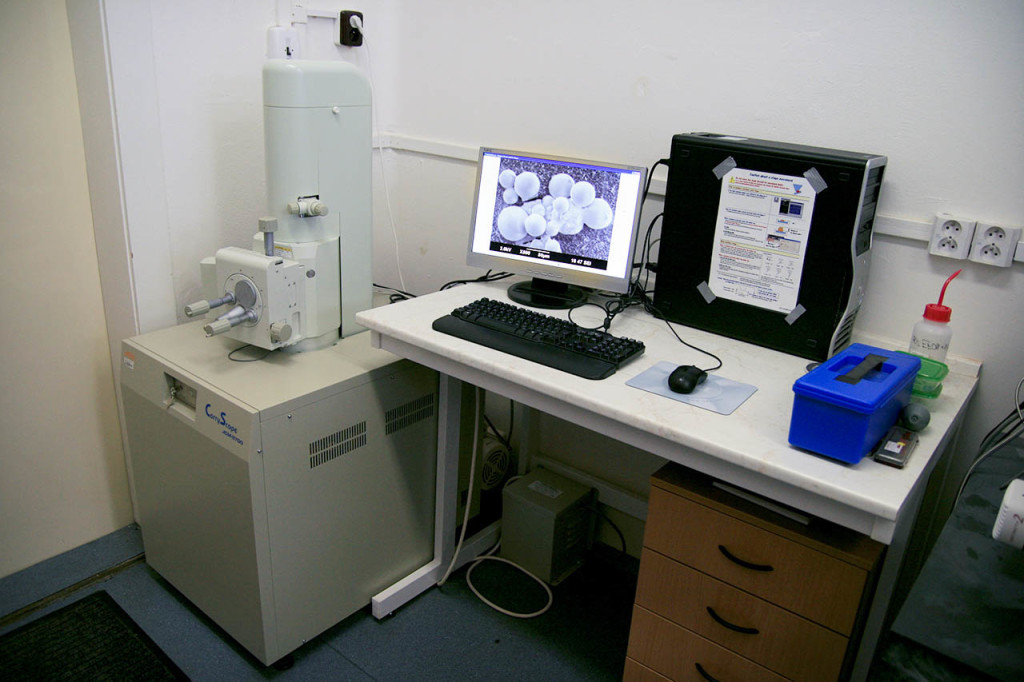 Despite it's compact size, JCM-5700 has all the capabilities of a scanning electron microscope. Both in terms of imaging and obtaining micro- and nano-relief surfaces of the sample with magnification in the range from x8 to x300000, and in terms of elemental analysis by energy dispersive X-ray spectrometer.
The software allows to carry out high-precision quantitative measurements on the images, including three-dimensional images obtained using stereo mode.
Our applications:
Sample morphology observation
Quality control
Inner structure visualization using micro-CT attachment
Visualization of sample composition
Technical specifications:
Resolution 5 nm
Accelerating voltage 0.5 – 20 kV
Magnification range x8 – x300000
Maximum sample size 150 mm in diameter and 43 mm in height
SkyScan Micro-CT SEM attachment
We have our SEM equipped with the SkyScan Micro-CT. This inexpensive attachment adds to any SEM a unique capability to image and measure 2D/ 3D morphometry throughout the entire sample volume, and create realistic visual models for virtual travel within the object.
Detail detectability down to 500nm
Using SEM electron beam to generate x-rays
Possible to work with conductive and non-conductive samples
No requirement of any connections to SEM or modifications
No ring artifacts in 3D slices due to direct detection camera
Supplied with software for 2D/ 3D image analysis and realistic visualization
See manufacturer's overview of this product for more details.
Examples of our applications: