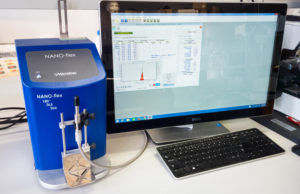 System for characterization of colloids by dynamic light scattering within a size range of 0.8 nm to 6.5 µm. Suitable for material systems with concentrations from ppm up to 40% vol., depending on substance type. Minimum is 1 droplet.
Our applications:
Measurement of concentrated dispersions
Online measurement in-situ
Broad size distribution samples
Technical specifications:
Size range: 0.8 nm – 6.5 µm
Concentrations: ppm to 40% vol.
Measuring probe: 8 mm ø.
Light path in sample:  <0.3 µm
See manufacturer's overview of this product for more details.